Every day, our sales team hears stories of customer successes with ProTeam. From schools to movie theaters to health clubs, ProTeam tools are helping cleaning pros maintain healthy facilities. Keep reading to find out how different end users have found the right tool for the right job.
High Dusting Tool Kit
"At the resent BSCAI National Show in Denver, the High Dusting Kit was mentioned numerous times by contractors that ProTeam hit a grand slam by creating a versatile and affordable High Dusting kit that can be placed in almost all of their facilities that have above the floor cleaning tasks that require a ladder".

Rich Steinberg | Vice President of Sales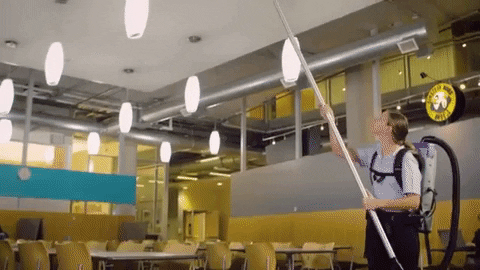 "I love to see the High Dusting tools in use at schools as it's the perfect way to clean those lights and air vents over hard-working students."

Jacalyn High | Director of Marketing 
"A national theater chain currently testing the High Dusting Kit with the Super Coach Pro 6 quickly realized the benefits of these products. They captured and contained dust and dirt from the vents, returns, and light fixtures, therefore greatly reducing the dust accumulation on the screen. They have also saved a significant amount of time and have dramatically improved worker safety by no longer having to position a ladder or a lift for routine cleaning."

Frank Baldwin | Manager of Business Development
"I have several restaurant chains that use the ProVac FS 6 with the High Dusting Tool Kit. These chains have exposed rafters and ceilings, and the High Dusting Kit allows them to clean the air vents, pipes, and hard to reach places very quickly and efficiently."

Timothy Parker | Segment Manager – Hospitality  
"A unique and helpful application for the High Dusting Kit is cleaning false-opening ceiling configurations.  This allows for better cleaning of the high surfaces, keeps the worker off of ladders or expensive lifts, and the frequency of the task can increase since it is easier to accomplish."

Stephanie Mackey | Western Zone Manager 
Bulk Pick-Up Tool
"I spoke to a movie theater group and they like the Bulk Pick-Up Tool, they said it works great picking up all of the dropped popcorn in the aisles and seats.  They love it."

Rich Stanley | Senior Regional Sales Manager
ProBlade Floor Tool
"K-12 school organizations are improving performance and efficiency with the ProBlade tool systems.  The added flexibility of the telescopic wand provides the reach to dust ceiling vents, walls, and ledges.   The unique tool design makes it easier to clean between desks, chairs, between file cabinets, and along floor cove moldings. "

Jim Elliott | Midwest/Mountain States Regional Manager
"Many BSC customers really like that they can use the ProBlade floor tool to also clean edges along baseboards, eliminating the need to change tools and another step in the cleaning process."

Armando Aranibar | Eastern Sales Manager – Service Provider Segment
"The ProBlade Hard Surface tool is a great tool for cleaning under hall lockers in schools, both wall-mounted and floor-standing lockers."

Bob Cusick | Southeast Regional Sales Manager 
Paddle Tool
"Speaking with a national health club facility, they like the Paddle Tool to get under the large equipment that has a small gap to the floor."

Kristina Schardijn | National Account Manager
Hard Surface Tool with Nylon Brush
"The Hard Surface Tool with Nylon Brush is great for the flooring industry. For detail cleaning, pre-and post-construction, and on any hard floor surface.  It works exceptionally well at removing the fine dust in the grooves of hardwoods. Capturing and removing the fine dust and particulates prior to installation or finish work makes the difference between a good job and great job!"

Lisa Winter | National Account Manager
"The Hard Surface Tool with Nylon is GREAT for stairwell cleaning, especially when paired with the GoFree Flex Pro cordless vacuum. Users can work their way down with no plug removal or replacement, and no trip hazard with cords."

Jared Sorrell | Healthcare Specialist | Demlow Marketing, Inc. 
20″ JetSweep Hard Surface Tool
"Using the  JetSweep  not only increases productivity, but it also  sweeps  away traditional dust mopping as it doesn't push dust back into the environment, nor do you have to launder dust mops.  This is truly a low cost, green alternative, which also helps to keep labor costs down."

Mark A. Jensen | TRC Marketing
"From what I have been able to ascertain, the equipment used to clean escalator stairs costs in the tens of thousands of dollars and contractors charge many thousands to perform this task. By using the Super Coach Pro 6 with the 20″ JetSweep Tool, one casino was able to reduce the frequency for the need for a deep-down cleaning, saving many thousands of dollars."

Marvin Mauer | Canadian Country Manager 
Do you have a favorite use for your ProTeam tools? Let us know in the comments!